Traitement du syndrome de Cushing
Les options de traitement du syndrome de Cushing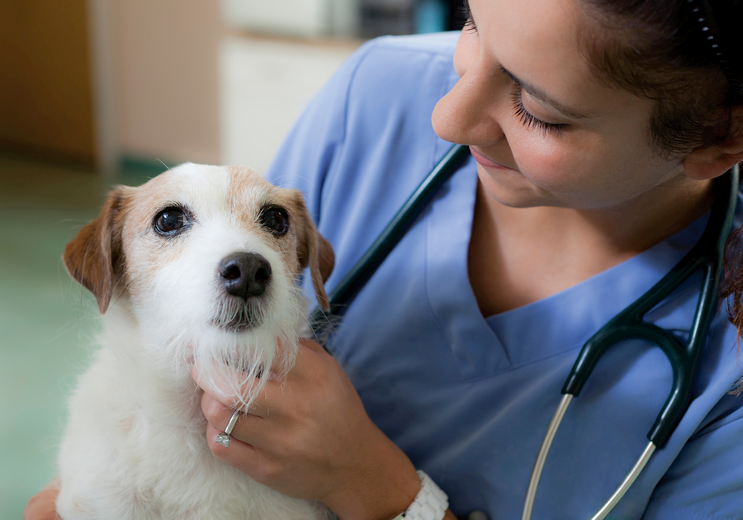 L'hypercorticisme peut être traité par la chirurgie (surrénalectomie ou hypophysectomie par voie sphénoïdale), par l'irradiation de l'hypophyse ou par un traitement médical. La chirurgie et la radiothérapie s'avèrent des interventions complexes offertes uniquement par quelques centres spécialisés; par conséquent, un traitement médical est souvent le choix le plus pratique et le plus accessible. Les capsules VETORYL® (trilostane) sont le seul traitement approuvé par Santé Canada pour soigner l'hypercorticisme d'origine hypophysaire et l'hypercorticisme d'origine surrénalienne canin ou chez les chiens au Canada. Bien que l'administration quotidienne de capsules VETORYL ne constitue pas un remède médical au syndrome de Cushing, elle peut toutefois permettre de gérer efficacement la maladie, améliorant ainsi la vitalité et la qualité de vie du chien.
Quelques informations sur les capsules VETORYL :
Les capsules VETORYL contiennent du trilostane qui, de façon sélective et réversible, inhibe l'enzyme 3β-hydroxystéroïde déshydrogénase intervenant dans la synthèse de plusieurs stéroïdes, notamment le cortisol et l'aldostérone.
Aux dosages recommandés, les capsules VETORYL tendent à avoir un effet plus sélectif sur la production de glucocorticoïdes (cortisol); toutefois la possibilité d'une inhibition de l'aldostérone doit toujours être prise en compte par le médecin vétérinaire traitant.
Les capsules VETORYL réduisent la concentration de cortisol en circulation, améliorant ainsi de nombreux signes cliniques de l'hypercorticisme.
Les capsules VETORYL sont offertes en quatre dosages – soit 10 mg, 30 mg, 60 mg et 120 mg – pour permettre d'établir une dose précise et flexible, et ainsi restaurer la vitalité du chien en réduisant les signes cliniques associés à l'hypercorticisme.
Le produit est offert dans des emballages-coques de 30 capsules pour faciliter la distribution.
Information importante sur la posologie et l'administration des capsules VETORYL
Les capsules VETORYL doivent être administrées par voie orale, une fois par jour, avec de la nourriture et préférablement le matin
La dose de départ est de 2,2 à 6,6 mg/kg (1 à 3 mg/lb) une fois par jour pour le traitement de l'hypercorticisme chez le chien.
Commencez par la dose la plus faible possible en fonction du poids corporel du chien et des combinaisons de dosages des capsules.
Une fois le traitement entamé, le propriétaire doit être avisé de surveiller le comportement, l'appétit et la consommation d'eau du chien.
Le propriétaire doit être avisé que si le chien présente des signes de malaise, le traitement doit être arrêté et il faut communiquer immédiatement avec un médecin vétérinaire.
Le dosage doit être augmenté progressivement en fonction de la réponse individuelle déterminée par la surveillance des signes cliniques, l'examen physique et les résultats des tests de laboratoire (test de stimulation à l'ACTH et biochimie sérique, y compris les électrolytes).
Si les symptômes ne sont pas adéquatement contrôlés pendant une période complète de 24 heures entre deux doses, il faudra envisager la possibilité d'administrer les capsules VETORYL en deux doses quotidiennes.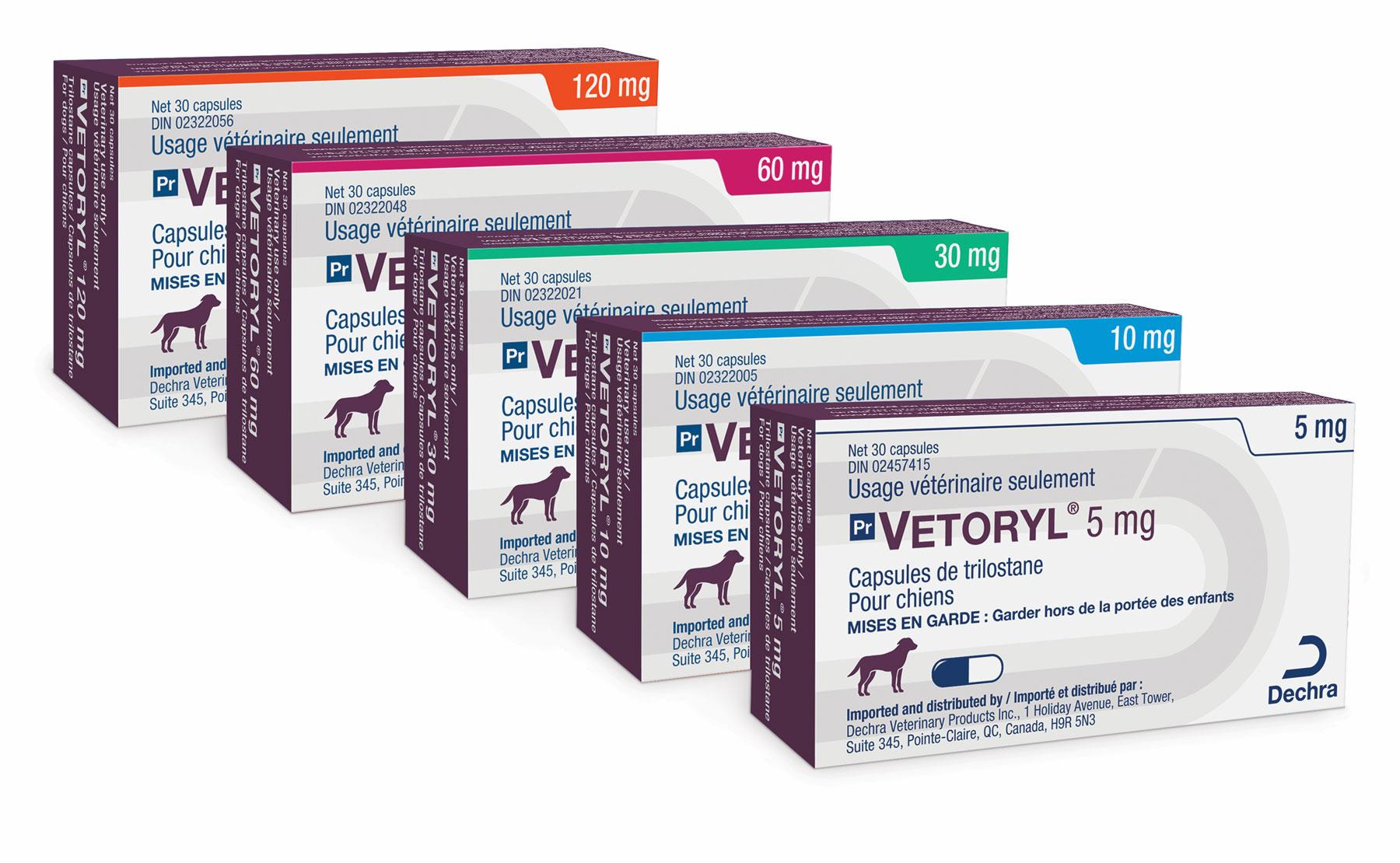 Les capsules VETORYL vous permettent de traiter l'hypercorticisme d'origine hypophysaire et l'hypercorticisme d'origine surrénalienne chez les chiens. Les capsules VETORYL ont été approuvées par Santé Canada et sont fabriquées en conformité avec les bonnes pratiques de fabrication assurant la qualité, l'uniformité du contenu et la biodisponibilité, comme la procédure de présentation l'établit.
Certaines complications dermatologiques liées à l'hypercorticisme pourraient bénéficier de mesures de soutien additionnelles. Dechra offre une vaste gamme de produits visant à optimiser le rétablissement de la peau et du pelage. Veuillez visiter notre page Dermatologie pour en savoir plus sur ces produits.
As with all drugs, side effects may occur. In field studies and post-approval experience, the most common side effects reported were: anorexia, lethargy/depression, vomiting, diarrhea, elevated liver enzymes, elevated potassium with or without decreased sodium, elevated BUN, decreased Na/K ratio, hypoadrenocorticism, weakness, elevated creatinine, shaking, and renal insufficiency. In some cases, death has been reported as an outcome of these adverse events. VETORYL Capsules are not for use in dogs with primary hepatic or renal disease, or in pregnant dogs. Refer to the prescribing information for complete details.