Si vos efforts ne permettent pas de rompre un cycle pathologique, commencez à soupçonner la maladie d'Addison.
Vous rappelez-vous un cas que vous n'arriviez pas vraiment à tirer au clair? Un propriétaire se présente avec son chien à différentes reprises sur une période de quelques semaines, mois ou années. Il affirme que son animal ne va pas tout à fait bien, sans aller tout à fait « mal ». Le chien répond à un traitement non spécifique, comme la fluidothérapie intraveineuse, et obtient son congé… mais vous le revoyez ensuite quelques semaines plus tard, car les signes qu'il présentait au départ sont réapparus.
S'il vous est déjà arrivé de traiter le même chien à maintes reprises, le moment est peut-être venu de creuser un peu plus.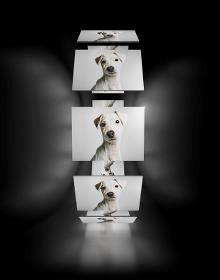 Qu'est-ce que la maladie d'Addison?
La maladie d'Addison est une maladie endocrinienne rare qui apparaît lorsque les glandes surrénales produisent des corticostéroïdes, à savoir l'aldostérone et le cortisol, en quantités insuffisantes. Ces hormones sont vitales pour la régulation de la volémie et de la tension artérielle et aident le chien à répondre au stress.
Lorsque ces hormones font défaut, le chien peut présenter un certain nombre de symptômes vagues et chroniques, comme les suivants :
Vomissements
Diarrhée
Perte d'appétit
Problèmes gastro-intestinaux
Léthargie
Dépression
Tremblements, frissonnements et raideur musculaire
Hypothermie
Hypotension artérielle
Si la maladie d'Addison n'est pas détectée à temps, les déséquilibres hormonaux qui se manifestent chez le chien pourront tôt ou tard mener à un choc hypovolémique et à un collapsus. Cette manifestation est aussi connue sous le nom de « crise addisonienne » et peut menacer la vie de l'animal. Toutefois, une meilleure connaissance de la maladie d'Addison permet d'éviter cette issue.
Comment cette maladie peut-elle être traitée?
Même si la maladie d'Addison est parfois difficile à diagnostiquer, son traitement peut être aisé.
Le Zycortal, qui s'administre sous la forme d'une injection mensuelle, remplace l'aldostérone dont votre chien a besoin. Le médicament contient du pivalate de désoxycortone, qui se comporte d'une manière comparable à l'aldostérone. Il a été établi que cet ingrédient permet de contrôler les électrolytes plus efficacement que la fludrocortisone.
Du fait qu'il s'agit d'un produit injectable, le Zycortal offre une flexibilité beaucoup plus grande en vous permettant d'adapter la dose à chaque chien, pour une maîtrise optimale de la maladie.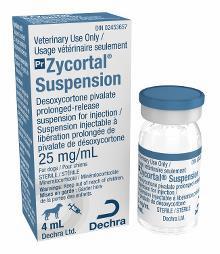 As with all drugs, side effects may occur. In field studies the most common side effects reported were polyuria, polydipsia, depression/lethargy, inappropriate urination, alopecia, decreased appetite/anorexia, panting, vomiting, diarrhea, shaking/trembling, polyphagia, urinary tract infection, urinary tract incontinence and restlessness. ZYCORTAL Suspension should be used with caution in dogs with congestive heart disease, edema, severe renal disease or primary hepatic failure. Dogs presenting in Addisonian crisis must be rehydrated with appropriate intravenous therapy before starting treatment with ZYCORTAL suspension. Refer to the prescribing information for complete details here.